I'd tentatively say it doesn't look too bad for December first...

The standard shot. As always, click to embiggen, and you can click again on the larger version for a super-sized one.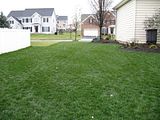 Here's the front lawn, with a few leaves down in the latest wind storm today. I thought the contrast down the block was amusing. When driving up the street, there's one dark green patch...