These aren't the official July Fourth photos just yet, when I traditionally photograph the end of the early season flower and lawn development. These are just extras for fun, and due to the fact that we've had so few days without rain that I'll snag any excuse to slip outside for a bit into the sun.

As always, click on any photo to embiggen it.

The first shot, as always, is the traditional lawn photograph. Again this time, I took it before mowing the north face but after mowing the back. You can see that the lack of sunlight is taking its toll on the grass quality a bit, although the back has already improved since yesterday. Quality is tolerable, color is only OK due to the iron binding in the wet soil.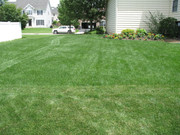 The general garden shot. The gardens are doing fairly well, but would bloom more heavily in more sunlight.



Another face of the garden. This one features plenty of dahlia and celosia. I probably won't be growing the celosia again next year as development is not impressive until very late.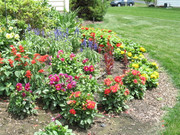 The red Figaro dahlia are doing very well and will be making an encore appearance next year. This is a closeup of some of the blossoms on one single plant. A quick count shows 16 fresh blooms on this one plant, with dozens of developing buds.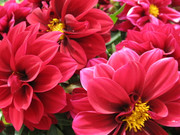 Harlequin dahlia are something I use as an accent. They don't bloom nearly as copiously, but the color contrast is more than enough to make this an impressive plant in the garden. This plant isn't in as good a location and only features two or three blooms at once. Other Harlequin in better conditions will have a dozen simultaneous blossoms.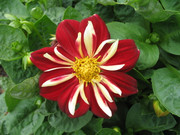 Here's a Fireworks dahlia. While an impressively copious bloomer, the blossoms themselves have too little impact from a distance. Unfortunately, these probably won't make the cut for next year.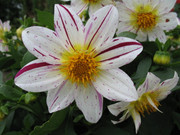 The large dahlia are just beginning to bloom, with the first buds developing now. Blossom on this Sun Lady dahlia will be this week. These larger dahlia are more of a late-season flower, featuring two dozen blooms per bush from July through October. Flower sizes range from 4" (the Sun Lady and Blue Boy) to 8" (the Color Spectacle). I tend to avoid larger flowering dahlia as they require staking.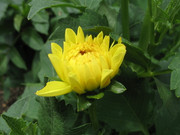 I have some baby swifts this year in a nest over the front door. While annoying--and dirty--I didn't catch the nest until the eggs were already in it, at which point I wouldn't dream of removing them. Once the babies are out of the nest, I'll remove it. Look closely here and you'll see four young swifts, getting large enough that they'll fly soon!