I've been extremely busy, so this blog has gone by the wayside this year. Not that there's much to report, however. We're in a drought watch (the lowest level and not really a drought yet), but the lawn is dormant and temperatures are too high to bother trying to keep it awake.

The gardens are doing very well, so I've highlighted some of the better images below.

A rarity this season, but we did get a double rainbow tonight as a series of storms rolled through and dropped over an inch of rain! That almost doubles our total so far for July, and might restore the grass a little bit.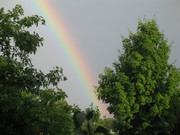 This is immediately post-storm and I haven't swept the mulch back into the garden. Still, you can see these are doing well.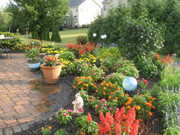 A Madagascar periwinkle. Although gorgeous, these are difficult to start, slow to grow, and don't really show off well until July. They probably won't appear in the garden again, except via volunteers.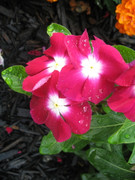 An Inca II Gold marigold. These are 3-4" puffballs on 12" plants, and very showy. They'll definitely find homes again next year, and will partially replace the zinnia to cover the yellow part of the spectrum. I still have to see performance in August and September, but so far these started strong right out of the gate and just kept getting better.